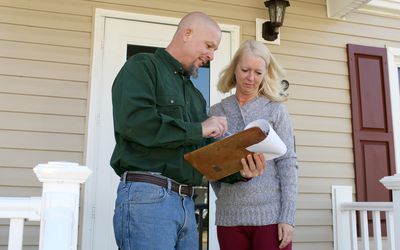 How Home Inspections Work
What Do Home Inspectors Do?
A home inspector is not looking for code violations and will only look at the parts of the home that are visible and accessible.
In a typical home inspection, the inspector will examine the roof, walls, flooring, foundation and everything in between including, air conditioning and heating systems, interior plumbing and the electrical system.
Our team at Rogue Inspection Services is passionate about education in our industry!  We hope to help you understand the home inspection process to aid in comfort knowing you're making the right decision to hire a home inspector.
You Should Attend Your Walk Through!
Most commonly new home buyers don't realize that a home inspection is optional and not required by federal government lets say to get your home loan.  However, and this is a big however; a home inspection will give you piece of mind that you can't get anywhere else before purchasing a new home.
Attending your home inspection will also help ease your mind when working with such a big investment, as well as help answer any questions you may have.
At Rogue, during our walk through we're happy to answer any questions and concerns you may have about the home.  We're also happy to make any referrals to local business owners for professional help.
Some pieces of information will justify just reading the home inspector report. This report summarizes what the inspector addressed in the home.
Home Inspectors Can Inspect All Properties
Home inspections aren't just for home buyers or sellers.  Home inspectors are savvy with many kinds of properties and it'd behoove anyone who's investing in property of any kind to have it inspected professionally before purchase to maintain a solid foundation for their future.
Inspectors know how to treat spaces which may have unique requirements like condos or multifamily dwellings.
Prepare a Checklist
When touring your list homes, bring along a notepad.  When you see something you're questioning, you can write it down and be well prepared with questions for your home inspector during a walk through. 
This will also help you compare the homes you've seen without getting confused on what you've seen in each home.
Do Home Inspectors Have Standards?
Only SIX states actually require home inspectors to be licensed!  Luckily, Oregon is one of them.  Regardless, your home inspector should be experienced and knowledgeable about building techniques and materials, they should also have a way to document this!
When looking for a certified home inspector in Oregon, they must be OCHI certified.  Additionally, being a member of interNACHI would increase their integrity and standard value.
How Long Will The Inspector Take?
Most home inspectors will schedule your appointment within 7-10 days.
Generally, a home inspector will get started after the final sales contract is signed, the sales contract should include a clause making the final sale contingent on the home inspection.
Inspection and Appraisal
Home inspections and home appraisals are NOT the same.  Frequently homeowners think a home appraisal will cover all their bases.
A home appraisal is a value based on comparable recent sales of the home in the neighborhood. A home inspection will describe the condition of the home and can estimate the future of the home.
Home Inspector Hero's?
If you ask us, home inspections are worth every penny. They will give you the piece of mind you need to purchase your home, and save you money for your future.
When investing in your new property it's imperative to gain all the knowledge about the property that is available to you. The easiest way to do that is with a home inspector that has your best interest in mind.
Create a checklist to go over with your home inspector, attend the home inspection and record important information regarding repairs.
Utilize your home inspection report, your home appraisal and you will have more than enough information to securely invest in your property. Good luck!
Check out our website to schedule your home inspection today!
https://www.rogueinspection.com/wp-content/uploads/sites/38/2021/02/a-woman-talking-to-a-home-inspector-on-her-front-porch-185300599-f7ded69cbd1740e08a38cd83cfcf3a50.jpg
250
400
rogue
https://d3j4xned2hnqqe.cloudfront.net/wp-content/uploads/sites/38/2019/03/Logo_PNG_with_mountain_separation-300x300.png
rogue
2021-02-25 22:09:00
2021-02-25 22:09:44
How Home Inspections Work